About Hakuba
The Hakuba Valley is a huge expanse of resorts offering an incredible variety of terrain for skiers and snowboarders alike. Situated in the heart of the Japanese Alps, the alpine scenery is truly spectacular with huge rugged peaks towering up to 3000 metres above the town below. From one end of the valley to the other and with 10 resorts accessing over 200 runs, Hakuba is the skiing and snowboarding Mecca of Japan. At the southern end of the valley is Sun Alpina, then to the linked resorts of Hakuba 47 and Goryu-Toomi and on to the Olympic ski resort of Happo-One, situated in the heart of Hakuba. Heading up to the northern end of the valley, is Iwatake, Tsugaike, Norikura and Cortina which are all excellent. Happo One(pronounced Happo-on-eh) Averages 12 metres of snow per year and is steep, wide and open with modern excellent facilities, spectacular views, and operates into May!
Hakuba is located at the foot of the Hakuba Mountains, belonging to Chubu Sangaku National Park in Nagano, Japan. It is an internationally recognised destination for both Summer and Winter sports.
Hakuba is divided into a series of Apres enclaves a short shuttle drive from village to village.
Wadano village has The Pub, frequented mainly by Australians,
Echoland village has a huge selection of Bars and Restaurants for all those that still have energy left for the night life also there is karaoke in private rooms at Non Jays (Gin San's) on Olympic Way, only 1 minute walk from Alpine Chalets.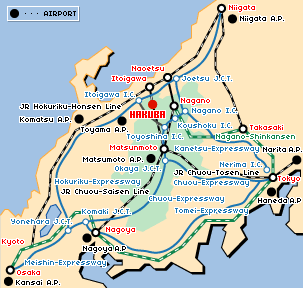 Overview of Transport for Travel to Hakuba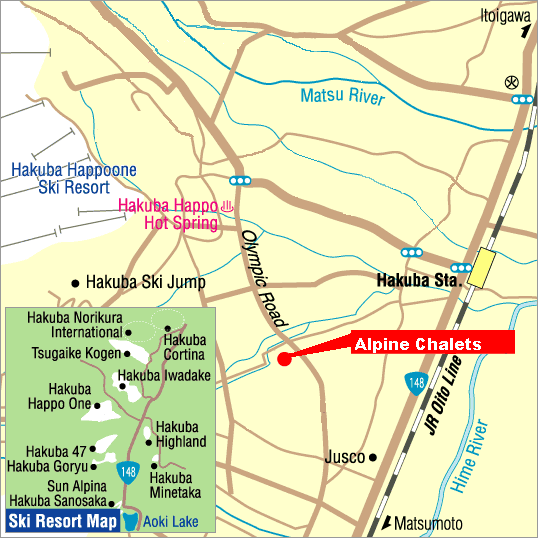 Interactive Map of the Hakuba Valley
View Larger Map